RGF manufactures over 500 environmental products and has a 35+ year history of providing the world with the safest air, water and food without the use of chemicals. RGF is an ISO 9001:2015 certified research and innovation company, holding numerous patents for wastewater treatment systems, air purifying devices, and food sanitation systems. Situated in the heart of the Port of Palm Beach Enterprise Zone, RGF Headquarters span 9 acres, with 130,000 square feet of manufacturing, warehouse and office facilities. RGF has recently upgraded their facilities, creating an increased vertical approach to manufacturing, further allowing the company to provide the highest quality and best engineered products on the market.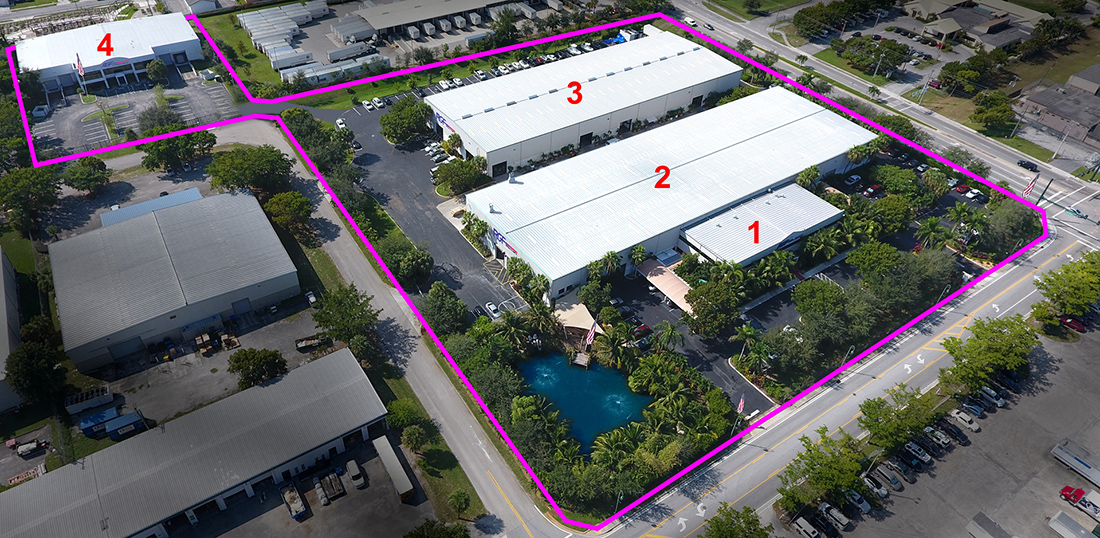 Research & Development
RGF maintains a Research & Development staff that has been involved in USDA (FSIS) and multiple University Studies. Our staff continuously develops system improvements and new products. RGF personnel have been published in many national journals and textbooks.
Design
Our technical staff consists of the following specialists: biological, mechanical, chemical, food, waste treatment, nuclear, fabrication, design and environmental law. Our 3D design and CAD services in conjunction with our in house rapid prototyping provides fast and accurate OEM project turnaround.
Manufacturing
RGF is a fully vertical manufacturer. Our 106,000 square foot facility has electrical/mechanical assembly, injection molding, assembly line, custom engineering, welding, painting, mold making, machining and marine fabrication.
Laboratory Services
RGF maintains a state-of-the-art analytical lab, which will provide free water testing for as long as you own your RGF system to assure continued performance. This assures our customers that should your waste stream change, you will be able to make the appropriate modifications to meet your needs.
Innovation
Since 1985, RGF has maintained a steady flow of award-winning innovative purification products. RGF has been awarded national recognition as a recipient of the Inc./ MCI Customer Service Award as well as numerous Dealer Design awards on products such as the REME HALO®, Package Unit, PTAC, Mini Split and many more.
Patented Technology
RGF has been a leader in patented Industrial Environmental Technology with numerous patents both already issued as well as many still pending approval
Validation
RGF first developed its Advanced Oxidation Technology over 20 years ago. Over 1 million RGF Cells are in use around the world. RGF has licensed its technology to many Fortune 500 companies for use in the medical, food, military, residential, commercial, marine, hospitality and government, etc.
Quality Control
At RGF Quality Control is paramount. All product lines have extensive inspection processes and procedures in place. Components go thru multi point inspection procedures as well as multiple line level checks. RGF is an NRTL audited facility. This ensures frequent 3rd party examination of our systems and processes for strict adhesion to our listed and recognized product safety standards.
Custom Applications
RGF's award-winning engineering team custom designs systems for wastewater treatment and water recycling, food processing equipment and food treatment, air treatment and purification, as well as marine environmental systems.
Advanced Oxidation
RGF has been a leader in Advanced Oxidation Technology since 1985. We developed an advanced catalytic oxidation system for total organic oxidation. Our Photohydroionization process has also been approved for use in specific production plants for direct product and surface treatments by the USDA.
Envision
The "World's First Environmentally Friendly Mega Yacht" is the brainchild of RGF Environmental Group. A multimillion dollar retrofit project that turned a tired Broward motor yacht into a spectacular 110′ floating showroom of sustainability and RGF technology. More than 50 of RGF's products have been incorporated and are on display throughout the yacht purifying and sanitizing air, water and food.
Lambogreenie
RGF's next sustainability project was to turn a Lamborghini into an electrical car with the best VAQ™ -Vehicle Air Quality. RGF craftsmen and engineers got to work and thus the Lambogreenie was born: With speeds up to 100 mph, a 2 hour run time and a fully integrated computer system, the Lamborgreenie is also treated with RGF's patented PHI technology to assure the best VAQ™.